The BuckWholesale.com Guide to Baseball Caps
For those of you who haven't noticed yet, there are LOTS of hats out there. Even something as simple and straightforward as the baseball cap can come in so many variations that it's hard to keep them all straight. And that, freinds, is where we come in. Below, we've compiled a list of some of the many variations you can encounter when shopping for ball caps on our site. If you have any questions that aren't answered in this article, you can call our office at (866) 408-2825, and we'll be more than happy to assist.
Construction Materials
One of the first things to consider when you're looking for a hat is what material it is made from. A nice, light cotton may be great for sunny summerwear, but not usually the first choice for winter hats. Synthetic fabrics may be less expensive than natural sources, but won't have the same range of use. Here, we'll cover the four most basic construction materials for the hats on our shelves.
Natural Fabrics
- Cotton
Cotton is a blanket name for several different species of flowering plant that produce fiberous "flowers". Easily one of the most popular crops across the world, cotton has been a textile staple for centuries. Lightweight, durable, and prolific, cotton is one of the most customizable, multipurpose fabrics on the market.
- Wool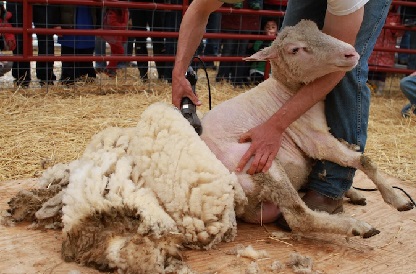 Wool is a blanket term for several different kinds of fiber collected from shorn animals, though the vast majority of traditional wool is taken from sheep. Durable and slightly elastic, wool is comprable to cotton in terms feel, but is usually denser and holds heat more effectively.
Synthetic Fabrics
- Acrylic
Acrylic is a term that can refer to several different synthetic fabrics that share similar chemical markers. Like other synthetic fabrics, it has a slightly coarser feel, and does not withstand high heat as easily as natural fibers. However, these same properties also make synthetic fabrics like acrylic much more resistant to stains and repelling liquid ("wicking"). Acrylic is also dense, making it the better synthetic for retaining heat.
- Polyester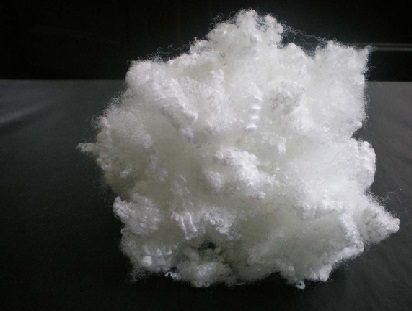 Polyester is to cotton what acrylic is to wool. A synthetic fabric, with all the improvements and weaknesses thereof, polyester is usually worked into lighter, more breathable fabrics than acrylic. What polyester lacks in heat retention, it makes up for with light weight and air flow.
Six Panel vs Five Panel
(Pictured Left: https://www.buckwholesale.com/6-panel-brushed-cotton-fitted-mesh-back-cap-khaki-brown-22155/)
(Pictured Right: https://www.buckwholesale.com/5-panel-cotton-flexfit-yupoong-flat-bill-blank-snapback-hats-w-green-underbill-grey-20602/)
Ball cap crowns are traditionally made of six triangular panels sewn together in a round shape. As seen on the left-hand model, this creates a seam running down the middle of the front of the hat. This is the style referred to as a six-panel. Printers, embroiderers, and other artists began demanding caps be made without the seam, allowing for uninterruped images on the front of the hat. Thus was the darted front panel introduced, replacing two panels with an oddly shaped one that would serve the purpose without the seam. The end result is the five-panel cap. (Five-panel would also come to refer to the cyclist cap, but that's an entirely different style of construction.)
Flat Brim vs Curved Brim
(Pictured Left: https://www.buckwholesale.com/bk-flat-bill-blank-plain-pinstripe-snapback-hats-navy-white-stripe-21095/)
(Pictured Right: Curved brim distressed trucker hats )
The bill of ball caps is designed to keep the sun out of ones eyes. For a better part of a century, the practice of cap wearers was to bend the sides of the brim to shade the corners of the eyes. Curved bill caps (see right picture) are caps whose bills come with a slight curvature that can be further rolled to suit the individual wearer. However, within the last few decades, a different trend has arisen: the flat bill cap (pictured left). More a statement of fashion than function, flat bill caps suggest a newer, more pristine product, and are frequently worn with the manufacturer sticker still attached to the bill to reinforce the maintained quality of the cap.
Structured vs. Unstructured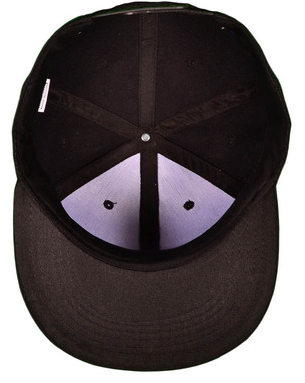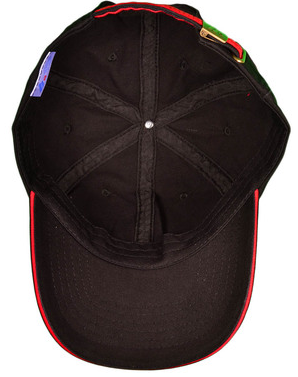 (Pictured Left: https://www.buckwholesale.com/bk-caps-flat-bill-blank-plain-snapback-hats-with-same-color-underbill-black-22145/)
(Pictured Right: Distressed unstructured dad hats )
Some caps, when you remove them from your head, still retain the shape of the cap. Others, when you remove the cap, the crown collapses into limp fabric. This is the difference between structured and unstructured caps. Structured caps will be reinforced with a sturdier fabric called buckram, which is essentally cotton fabric dipped in a plastic-like bath. In the structured hat (shown left), you can see the white buckram reinforcement behind the front two panels. For contrast, the unstructured hat on the right does not have the white buckram panels.
Low, Medium, and High Profile
In terms of hats and caps, the profile is a description of the height of the crown. Low profile hats will have shallower crowns in the 2-3 inch range, meaning that the brim of the hat will rest somewhere on the forehead when pulled down tight. Medium profile denotes hats with a crown height of 3-4 inches, meaning the brim should reach to roughly the top of the brow when pulled down tight. You'll also see hats on other sights listed as high profile, meaning a crown height of more than 4 inches. These hats would reach to your eyes or further if pulled down tight, but are traditionally worn with the space left up top, or preferred by people with voluminous hair. (Note: at this time, BuckWholesale.com does not sell high profile hats. But now you know what they're called!)
Sizing Fixtures
Ball caps are rarely sized to the individual wearer. While custom sized ball caps do exist, the vast majority are manufactured with one of several adjustable fixtures that allow the cap to be sized to the individual. The three most common methods used are the snapback, the strapback, and the flexible fit.
- Snapback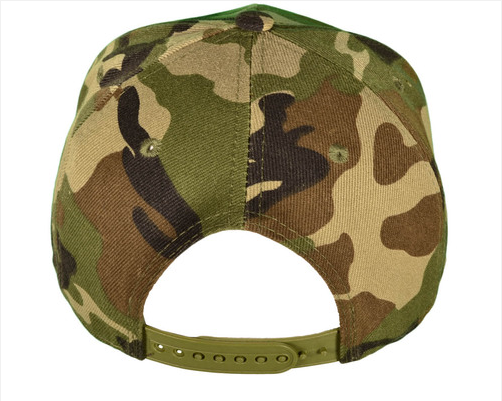 (Pictured: https://www.buckwholesale.com/wholesale-flat-bill-blank-plain-snapback-hats-green-camo-22146/)
Snapback caps are so named because of the open area in the back of the hat that is closed by two strips of plastic, one lined with raised nubs, the other fitted with similarly sized holes. When pressed together, the nubs snap into the holes, holding the strips in place, and closing the hat to a specific size. The snapback fixture allows for consistent size adjustment, and is the most rigid of all resizing fixtures.
- Strapback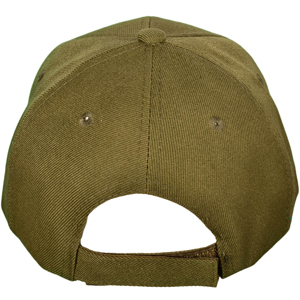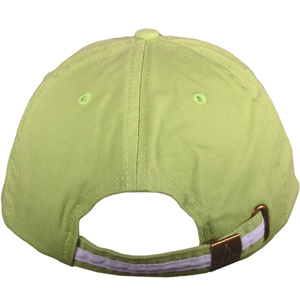 (Pictured Left: https://www.buckwholesale.com/bk-caps-6-panel-mid-profile-blank-baseball-caps-olive-3278/)
(Pictured Right: Strap and buckle dad hats )
Referring to several different varieties of closure, strapbacks have one or two fabric or leather straps in the back of the hat that allow for adjustable sizing. The two most common methods are a pair of velcro straps (pictured on the left) or a long strap and buckle (pictured on the right). Other styles not pictured can include parachute clips or leather straps with belt-style buckles.
- Flexible Fit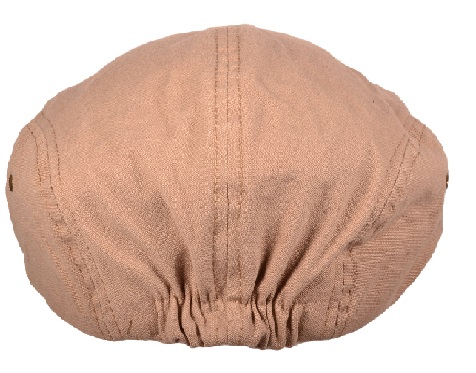 (Pictured: https://www.buckwholesale.com/wholesale-washed-canvas-ivy-flat-scally-driving-caps-khaki-21630/)
Flexible fit is a wide ranging term, but refers to any hat that, by some element of its design, can stretch to corform to several different head sizes. The ivy cap pictured above is lined with an elastic band, and includes a pocket of additional material in the back, allowing the crown to stretch. For most straw hats, like cowboy and sun hats, the weave of the straw is loose enough to allow for noteworthy flexibility in size. Beanie caps, by their design, are all considered flexible fit, though measurements are frequently provided for other purposes.
NOTE: There is a brand of hats named Flexfit, owned by the company Yupoong. While the brand takes its name from its usage of the fliexible fit method, it is worth noting that not all flexible fit hats are Flexfit brand hats, and conversely, not all Flexfit brand hats will be made with flexible fitting.
Other Style Elements
- Distressed
(Pictured: https://www.buckwholesale.com/bk-caps-vintage-distressed-enzyme-washed-army-cadet-hats-w-red-x-stitching-royal-22124/)
Beaten, torn, or worn out, distressed hats and caps are specially treated to look anything BUT new. The most common forms of distressing are cosmetic cutting/tearing, and acid-washing, which will loosen and break some of the smaller fibers into a softer, fluffier texture. Note that distressed hats are NOT "damaged", and any distressing on a hat will not affect its wearability.
- Green Underbill
(Pictured: https://www.buckwholesale.com/bk-caps-cotton-flat-bill-blank-plain-snapback-hats-w-green-underbill-purple-21148/)
A hanger-on from the days when baseball caps were meant primarily for playing baseball, the green underbill is a "vintage" style choice for ball caps. Originally, this element was provided to absorb as much of the light shining off the field grass as possible. Later variants emerged using grey, or sometimes black, on the underside of the bill for maximum light absorbtion.
- Sandwich Bill
The sandwich bill is a hat construction that uses a colorful layer of material in the brim, while the top and bottom of the brim retain the same colors as the rest of the hat. The result is a layered color scheme along the breadth of the hat.
- Trucker ("Mesh Back")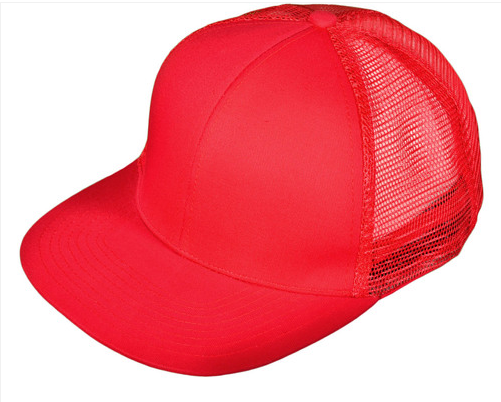 (Pictured: https://www.buckwholesale.com/bk-caps-flat-bill-snapback-mesh-trucker-caps-hats-red-21513/)
The primary difference between a trucker cap and a traditional baseball cap is the back of the crown. In place of the usual four cloth panels finishing the back, panels crafted of plastic mesh are used instead. The wide, open weave of this mesh allows the head to cool much faster, and the plactic mesh is less sweat-absorbant than cloth, making the style ideal for hot weather and high amounts of physical labor.
Some, but not all, trucker hats will come with a secondary difference: the foam front. The foam front is higly absorbant, serving both as a sweat guard for the wearer as well as an ideal surfacre for airbrush artists and other hat customizers.