Real customers testimonies from Yotpo.com
Real customers testimonies from Shopperapproved.com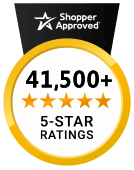 I ordered 5 dozen of your hats for a "tea" party. Guests then decorated them with lace, ribbons, flowers, buttons, etc. Everyone thought the hats were wonderful and could not believe the low wholesale price. Most people took their hats home and I am now seeing them around town. More than pleased!!!!!!
L Leisching
Hello Buckwholesale:

If Courtney is there, please let her know that the hats and gloves arrived on Friday, and they will be delivered to the homeless shelter this evening. Our student had his head shaved during our all-school meeting to the rousing shouts of all of his classmates. The head of our Student Council shaved our student's head, and the teacher in charge of service-learning spoke about the importance of helping others. All three are pictured here, including our student (who started out with full head of curly hair). The photos depict the beginning, halfway point, and lastly, his bald head! He loved every second! Thank you, so much, for helping support this activity with your advice, quick service, and great hats and gloves! I will contribute to your testimonial page on that form. We greatly appreciate the extra dozen you sent along!
Nancy Hill
Received our order on Thursday February 28th. Let me just say the pictures on your website do not do them justice. They are awesome. We will be placing another within the next week with you for more hats.
i just received an order from your company and had to tell you how pleased i am!!! the hats are of great quality and soooo cute!! i am a zumba instructor, and i go through alot of hats! the prices are amazing!!! i'm going to tell everyone about your website! thank you for the great service, products, and prices!
Lisa
Thank you so much - I received the 4 free caps today. I certainly did not expect you to do this for me. I will be a return customer - you are customer-friendly and honest.
Tim King
Ordered 8 hats of 3 different sizes, they came 2 days later as promised & the are perfect. Just what the procrastinating groom wanted. I just wanted to say thank you for saving the day with prompt service & integrity. The price was also great + the style was exactly right!
Haila Hayner
Thank you so much. I just received my order this morning. I loved everything in it, and I am looking forward ordering more in the future. Have a wonderful day!
Kristi
I just received my order and am very pleased.I placed a small order because i have been ripped off so many times on other so-called wholesale sites.Now that i know you have great service and good merchandise i will be back for much more.Thank you very much
aubrey king
I really love the fact that you can offer very nice products at a price where vendors are able to see a profit. And also you make vendors purchase in such hight number of bulk. I can't tell how much I have enjoyed viewing this site, I know that i will be a long term customer when i finally open my storefront.
shannon
Good Morning! Thank you soooooooooo much.. You know there are hundreds of suppliers out there and I get lots of offers .. come see this.. come buy that.. blah blah.. You all are.. and have always been the ABSOLUTE best to work with and just wanted you to know you are appreciated. I've told many other people about your place.. I hope you grow and grow and are the biggest.. you are already the best!!
Pam Nethers
I just wanted to say Thank you! I order almost weekly and I just wanted to let you know that the new selection that you have been getting is wonderful! You made my day today when i came to the store and saw the new bags!! Wow! Such great prices and selection, your definitely at the TOP of my supplier list, Thanks again!!!! :) :)
Kristen Marsh
Hi, WOW!! I just recieved both of my orders and everything is so GORGEOUS!! And fast shipping too! Thank you so much for everything. Your company is FANTASTIC, the BEST, I will only order from you from now on :)
Michelle Gallo
I just received my first shipment of purses! What a GREAT value!
Laura Huffman
Hi, I must say I love to do business with you,I am really impressed with the quality of your wholesale merchandise
Stephanie
Very Impressed with the jewelry. Many Thanks! I will be ordering again soon! Avery
Alma Garcia
I look forward to purchasing from your company during the holiday season, and will tell others about the wonderful customer support. Thank you so much-God Bless You
Kristi
I am very pleased with my first purchase with you and the speed in which the items reached its destination. thank you and I will assure you that I will be making orders in the future.
Dawn Johnson
Thank you very much for such a quick response! I sincerely appreciate your efforts and apologize again for hitting the wrong line item. We have placed another order today for some of your dog Christmas purses! How cute...my wife says! We are again thrilled to have located you on the web!
Dennis